5-HOUR EMERALD BAY / SHOTGUN COVE EVENING TOUR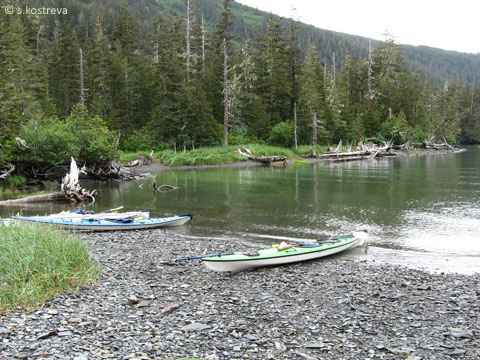 Tour Description: Come through the 1:30 PM tunnel opening after having a late lunch before arriving at our boathouse for proper outfitting of clothing and kayaks for your tour. We'll fit you in the kayaks, go over brief instruction and safety talk, then shuttle to the beach. Leaving Whittier, we paddle the South shore of Passage Canal, passing eagles perched high in trees above and cascading waterfalls tumbling down into the sea. Passing small, protected coves, our journey takes us to Emerald Bay for a short break and a light snack. After exploring, we continue into Shotgun Cove, passing the wreck of an old Washington State ferry. After arriving at our beach, our water taxi picks us up for a sightseeing tour along the North shore, passing the Kittiwake Rookery on our way back into Whittier. Our shuttle will meet us at the dock and return to our boathouse for the end to an awesome adventure!
Tour Price:

$189 per person (4 or more)
$249 per person (3)
$309 per person (2)
$545 per person (1)

Prices do not include 5% Whittier sales tax or guide gratuity

All prices subject to change
Price of Tour Includes: Padded seat in a fiberglass double kayak (no PLASTIC), knee-high rubber boots, rain gear OR paddle jacket with hat, shuttle drop-off and pick-up, paddle & safety instruction, a qualified guide, a light snack on a beach and Water Taxi Return. Please bring your own water bottle, synthetic clothing and fleece layers along with a good pair of WOOL SOCKS to wear in the boots.


printable version