February 19, 2013
I led a 6 day 4 person sea-kayaking trip To Blackstone and Cochran Bay, Prince William Sound in 2012. The trip went well, thanks to the help from Sound Paddler. I chose Sound Paddler to outfit my group mainly because of their long 30 plus years of experience in Prince William Sound and their expert advice. In planning for the trip I was able to get much needed information off their web site to plan the route, equipment rental and camping sites. I also spoke to Lois over the phone and Perry at the shop for more definitive information i.e. camping, weather, cold water rescue, areas to paddle and locating salmon spawning streams. Another reason I chose Sound Paddler was that they have excellent equipment to rent. They go out of their way to fit the person to the right fiberglass kayak, have safety equipment to rent, like a two way radio, flares, rain flies, water proof bags and much needed storm proof rain gear. Kayaking for an extended trip in Prince William Sound is a serious undertaking as is the selection of an outfitter. Sound Paddler fulfilled my expectations during my planning, equipment rental and safety advice. I am planning another trip in 2013 and will use Sound Paddler again as I have in 2 earlier trips. I highly recommend talking to them. 
Roy Catalano, Colorado Springs, Colorado.
---
January 8, 2012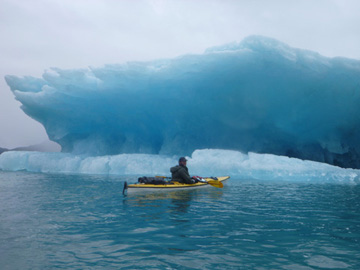 Dear Lois, dear Perry,

We want to wish you a happy new year, with all the best for you and yours. We really enjoyed our time in the PWS last August and we hope to come back again this summer, maybe in August. We changed our plans due to the weather. First we wanted to go in and out by ourselves, but then we decided to go to Cordova from Whittier and took the ferry back. It was an amazing trip. We paddled Port Wells up to the glaciers, then Esther Passage, (visiting Oyster-Dave, a real good guy), Glacier Island, Columbia Glacier, Heather Island, Tatitlek (friendly, good people), Knowles Point, Port Gravina/Comfort Bay, Orca Bay, Simpson Bay, to Cordova and further into the Copper River Delta...Your boats were excellent and your tips on the map were very helpful - but the best and most important was the tarp you gave us! Especially in the first half. From now on a large tarp will always be with us and we will never understand how we could be without. We hope to see you this summer.
Take care,
Daniel Bernd (Germany/Berlin)