RESERVATIONS / SECURITY DEPOSIT:
$100 per kayak. Deposit is made at time of reservation. Deposit should be made as soon as you know your dates.
CANCELLATIONS:
Cancellations must be made three weeks (twenty-one days) in advance for a refund of your deposit. If less than three weeks, deposit will be refunded only if kayak(s) get rented out for the full time that it was reserved, minus a $25.00 cancellation fee.
PAYMENT:
Rent is paid prior to departure. Payment can be made with cash, check, or credit card (MC/VISA). Any additional items like gear bags or clothing should be rented at this time.
RENTAL DAY TIMES:
Rental day may start as early as 5:00 PM the evening before and ends at 7:00 PM the next day or pickup kayak in the morning and return by 7:00 PM that same day.
REFUNDS ON RENTAL CHARGES:
No refunds on late arrivals or early returns.
DAMAGES:
We are not responsible for equipment failures in the field. Please check rudder, bottom of kayak, etc. before taking off on your trip. Damages beyond normal wear and tear will be charged to the customer at the assessed price of the P.W.S. Kayak Center.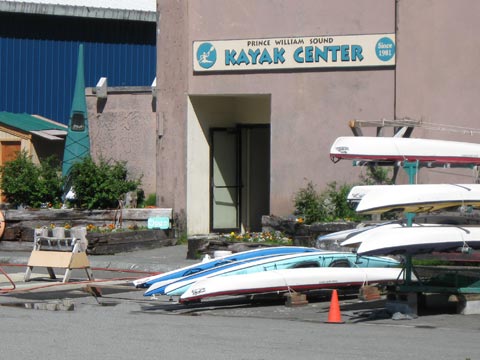 printable version