FOUNDATIONS OF ALASKA SEA KAYAKING COURSE
Course Description: This course is designed for those seeking instruction in the basics of kayaking. Using the analogy of building your own home, you start with a solid foundation. After that, you have the ability to choose a design based on what fits your needs and lifestyle. Likewise in sea kayaking and camping, a strong foundation with which to build upon is necessary in order to develop those skills that will fit your needs and style as a paddler and outdoors person.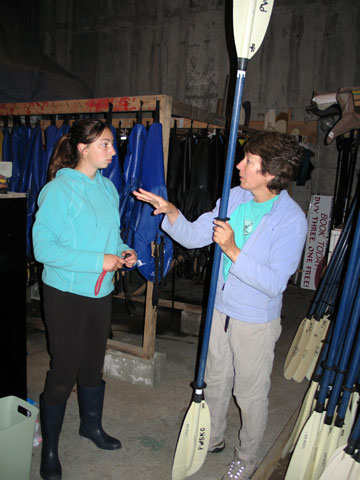 In this course you will learn the basic design of single, double and triple kayaks along with the two main styles of paddling: low angle vs. high angle strokes. We will discuss paddle design and go over the gear needed for your trip; things like spray skirts & cockpit covers, paddle floats, bilge pumps, paddle leashes, and the importance of a sponge. You'll learn the practical purposes of the equipment we've chosen to use, the alternatives out there, and the pros and cons of each.
Once you're familiar with the kayaks we'll select paddle partners and learn to properly adjust the foot pedals in the kayaks. You'll have the opportunity to learn different adjustments with the models we have available and the working of the hatch systems. The morning session will end with dry bag selection, talks about clothing and packing of the kayak, what to bring for camping and answer questions. Breaking for an hour lunch, you'll have time to visit one of our local places or take the time to organize more of your gear.
After lunch, we'll finish up any packing issues and get ready to paddle. At this time you'll learn the proper way to get in & out of the kayak, as well as various assisted and paddle-float rescue scenarios. Safety is in numbers and staying together when on the water. Once on the water we'll go over basic strokes again and situations to expect paddling out of Whittier. On our way to our camp, we'll have opportunities to land, stretch and simulate encounters with boat traffic, tide movement and other "what-ifs!"
For those taking the 2-day course, you'll learn the sequence of actions that work well for staying comfortable in a rainforest environment. Here our focus will turn to "Leave no Trace" lessons and creating good habits. Kayakers have an impact, but we want to learn to minimize that impact for others to enjoy.
After our morning breakdown of camp, our time is spent discussing maps, navigation, trip planning to other areas, weather, and our route back to Whittier. We may do a crossing, staying together, to have a different view for the longer paddle back. Arriving back, you'll be required to clean your gear and kayak, learning that maintaining your gear is one of the most important lessons! LET'S GO PADDLE!
1 DAY COURSE PRICE PER PERSON:

2 DAY COURSE PRICE PER PERSON:

$299 each (6 to 8 Paddlers)

$329 each (5 Paddlers)

$429 each (3 Paddlers)

$369 each (1 Paddler)

Prices do not include 5% Whittier sales tax or guide gratuity

All prices subject to change
Price of Course Includes: Padded seat in a fiberglass double kayak (no PLASTIC), knee-high rubber boots, rain gear OR paddle jacket w/hat, shuttle drop-off and pick-up, paddle & safety instruction and a qualified guide.
What to Bring: Your own Water Bottle, synthetic clothing and fleece layers, along with a good pair of WOOL SOCKS to wear in the boots. If you are participating in our 2-Day Course, you'll also need your own food & camping gear.  


printable version